Natural Born Hair Raiser™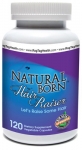 Retail Price: $59.99
Our Price: $49.99
You Save: $10.00
(30 day supply)
Lets Raise Some Hair!
If life has taken its toll on your hair, its time to fight back!
Why You Want It
Now research has discovered nutrients your scalp needs to grow a thick, full head of hair. Even if its been thinning for years.
Natural Born Hair Raiser™ gives your scalp the nutrients it needs to grow healthier hair - and more of it.
Why This Product Is a Better Choice
Formulated based on the latest scientific research, every ingredient has solid evidence behind its ability to support healthy hair growth. And every ingredient is 100% naturally derived -NO synthetic ingredients!
Biotin found in studies1 to contribute to limiting hair loss and stimulate hair re-growth as well as aid in the care of normal hair
Silica Studies2 find women taking silica had thicker hair because of increased elasticity and tensile strength
L-Methionine and L-Cysteine the sulfur amino acids that form "keratin," which is the protein structure of hair. These amino acids3 have been found to increase hair growth by as much as 100 percent. They not only prevent hair loss, but also improve the texture and quality of growing hair.
Vitamin A is an antioxidant, important to hair follicles, by producing sebum in the scalp, which keeps the hair roots lubricated.
Vitamin C is important in maintaining strong, healthy capillaries that carry blood to hair follicles, thereby improving scalp circulation.
Vitamin B Complex is especially important for hair growth and health. Hair loss has been shown4 to occur when your diet is deficient in B vitamins. B6 especially has been clinically shown to stimulate hair growth.
Are There Side Effects?
L-Cysteine can sometimes cause nausea, vomiting, and diarrhea or constipation.
Always check with your doctor before beginning any nutritional supplement.
Why Get it Here
Every product on this site is backed by our 365-day "Feel-Better-or-It's-FREE™" Guarantee. If it doesn't work or you're not happy for any reason, return whatever is left (even the empty bottle) within one year and get your money back. No hoops to jump, no questions to answer. Simple and secure.
No auto-billing or auto-shipping ever. Should you decide you want more, you'll just have to come back and buy more. There will never be surprise charges on your credit card.
You can be confident that this is a higher quality, better value hair health product. We settle for nothing less!
1
Minerva Ginecol. 2009 Oct;61(5):445-52.Hair loss in women. Tosti A, Piraccini BM, Sisti A, Duque-Estrada B. Source Department of Dermatology, University of Bologna, Bologna, Italy.
2
Nutr Metab (Lond). 2013 Jan 8;10(1):2. doi: 10.1186/1743-7075-10-2. Biological and therapeutic effects of ortho-silicic acid and some ortho-silicic acid releasing compounds: New perspectives for therapy. Jurkić LM, Cepanec I, Pavelić SK, Pavelić K. Source Department of Biotechnology, University of Rijeka, Radmile Matejčić 2, Rijeka, HR-51000, Croatia.
3
J Anim Physiol Anim Nutr (Berl). 2012 Sep 30. doi: 10.1111/jpn.12007. Effects of different dietary protein levels and DL-methionine supplementation on hair growth and pelt quality in mink (Neovision vision). Zhang HH, Jiang QK, Sun WL, Xu C, Cong B, Yang FH, Li GY. Source Institute of Special Animal and Plant Sciences, Chinese Academy of Agricultural Sciences, Changchun, China, and  State Key Laboratory for Molecular Biology of Special Economic Animals, Changchun, China.
4
J Am Acad Dermatol. 2008 Oct;59(4):547-66; quiz 567-8. doi: 10.1016/j.jaad.2008.07.001. Medical treatments for male and female pattern hair loss. Rogers NE, Avram MR.