GC50™ Green Coffee Bean Extract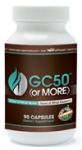 Retail Price: $59.99
Our Price: $39.99
You Save: $20.00
(30 day supply)
"The Fat Burner That Works"
The famous TV show set off yet another frenzy by devoting nearly an entire show to this amazing extract, calling it "The fat burner that works."
Why You Want It
Green coffee beans are rich in a compound called Chlorogenic Acid. Independent studies have found that chlorogenic acid boosts our metabolism by preventing the release of glucose into the blood stream1. Glucose is used by the body more immediately and this efficiency decreases glucose absorption.
An increase in the metabolism of stored fat reserves is a by product of this reduced glucose availability. In time this results in weight loss - decreased body fat and mass2.
Why This Product Is The Best Choice
The manufacturers of GC50™ scour the planet looking for green coffee bean extracts with the highest concentrations of chlorogenic acid. They blend these super-strains into a formula that's guaranteed to have a minimum of 50% - and usually more. It's then 3rd party tested to confirm that strength. This means this product is stronger than those so-called "name brands."
See The Latest Test Results Here
Plus, it's one of the few that specifically offer a low caffeine content with less than 5% (when tested, it was actually closer to 2%, even better than the label claim!). Most importantly, it's the ONLY product we've found that sticks to the doctors dosing recommendation: one capsule 3x per day.
Why This Is The Best Place To Get It
Every product on this site is backed by our 365-day "Feel-Better-or-It's-FREE™" Guarantee. If it doesn't work or you're not happy for any reason, return whatever is left (even the empty bottle) within one year and get your money back. No hoops to jump, no questions to answer. Simple and secure.
No auto-billing or auto-shipping ever. Should you decide you want more, you'll just have to come back and buy more. There will never be surprise charges on your credit card.
You can be confident that this is the highest-quality, best value version of this product available anywhere. We settle for nothing less!
1
Diabetes Care. 2009 Jun;32(6):1023-5. doi: 10.2337/dc09-0207. Epub 2009 Mar 26. Acute effects of decaffeinated coffee and the major coffee components chlorogenic acid and trigonelline on glucose tolerance. van Dijk AE, Olthof MR, Meeuse JC, Seebus E, Heine RJ, van Dam RM. Source Department of Health Sciences, EMGO Institute for Health and Care Research, VU University Amsterdam, the Netherlands.
2
J Int Med Res. 2007 Nov-Dec;35(6):900-8. The effect of chlorogenic acid enriched coffee on glucose absorption in healthy volunteers and its effect on body mass when used long-term in overweight and obese people.Thom E. Source ETC Research and Development, Oslo, Norway.