If You Are The Kind of Person Who Hates
Wasting Your Time, Money - Even Health -
On Mediocre Products That Might (Or Might Not) Work...
...then you are going to love what we do!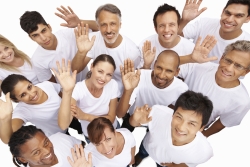 Hi, we are the Rag-Tag Research Geeks™. We spend all day, every day looking at real science, the actual research data.

We use that data to find products that most closely match what was used in those studies ... therefore giving you the best possible opportunity to see the results you are dying for ...

As for Hair Growth supplements ...
---
Before you buy a Hair Growth supplement, there's something you need to know. Fly-by-night supplement makers are coming out of the woodwork and rush producing their own hair growth product to cash in on this perennial need.
While these supplements may be affordable, they may not be as the label says. Worse yet, these supplements likely do not contain enough of the active ingredient to help grow your hair. Results with hair growth supplements are largely dependent on the potency and quality of the product you're buying.
They claim to offer a quality version. But how can you know they are telling the truth?
What Are You REALLY Putting In Your Body?
---
"I CAN'T Be Losing My Hair!"
I don't know about you, but when my hair first started thinning, it scared the hell out of me.
All I could think of was that if this didn't stop, before long I'd have bald spots. I started investing in hats... lots of them. I used to be so proud of my hair. Like most women I have a love/ hate relationship with it of course. But when it was a good hair day, it was GOOD. But now I was hardly ever seen without my hair covered up.
Research is part of my job here at aPP, and so I started looking into hair loss. What makes it happen? Most importantly, how can I make it stop?
We Discovered Some GOOD News...
Of course there are many reasons men and women both lose hair. Sometimes its hereditary. Sometimes its a vitamin deficiency, sometimes its hormonal. Sometimes its stress... the reasons can be as individual as the hairs on your head. (Or whats left of them, right?)
The important thing is, as we researched we found 10 nutrients that have been clinically proven to help regrow hair.1-6 Not chemicals or drugs, but natural vitamins and amino acids that not only support better hair growth, they can benefit your overall health at the same time. Of course, individual results may vary. But needless to say, I was personally very excited by this list!
But Nobody Had A Product With These 10 Ingredients!!
We weren't completely surprised when we began searching for a product that would measure up to the science we had discovered. Its become pretty obvious to us over the last several years that most supplement manufacturers are more interested in profits than developing a real, scientifically sound and effective product. There's no other way to explain why SO many ineffective products are sold - products that never have a chance of working because they just don't measure up to the research.
But don't let me get off on that tangent...
We finally wound up taking our list of ingredients to a manufacturer and working with them to have a product created. This way, not only could we make sure that all 10 ingredients were included in effective amounts (another trick manufacturers use is including small amounts of nutrients just so they can include them on the label). AND - this is big - we could ensure that each and every ingredient was derived naturally, NOT synthetically created. (You have no idea how RARE that is!! Especially with B vitamins...)
What To AVOID When Buying A Hair Regrowth Supplement
Of course, here at aPP we don't just want to tell you about the product we recommend. We want to educate you so that should you choose to buy something else, you get the best possible option. With that in mind, stay away from products that:
Are based on harsh chemicals or drugs
Contain synthetic vitamins
Don't contain sufficient amounts of scientifically proven ingredients
---
3 Things To Look FOR When Buying A Hair Regrowth Supplement
---
1. A Company With A Proven Track Record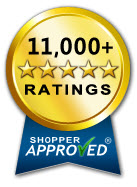 How long has the company been in business? What's their rating with the BBB? Do they sell other products, or did they spring up just to cash in on this latest fad? Do they send the product out for 3rd party testing to verify the label claims?
Here at aPP, the answers are: Since 2008. We've maintained an A rating with the BBB that covers not just this site, but everything owned by our parent company, JJSmith. (That means EVERYTHING we do meets a high standard.)
We also have stellar ratings from Google Checkout and Shopper Approved - both independent 3rd party sites you can verify in the links at the bottom of this page. And we have a full catalogue of high-quality products to help you take control of your health.
We were here when Oprah sparked the Acai Berry craze. Our customer service reps have been here to help dozens - perhaps hundreds - of people when they couldn't stop other companies from repeatedly charging their credit cards, or when the website they'd ordered from was nowhere to be found when it came time to return a product. That's what we do.
---
2. A Legitimate Product That Can Fulfill On Its Promise
As discussed above, you want a Hair Regrowth product that contains NO chemicals, drugs or synthetic ingredients. And you want to be sure it contains the following 10 ingredients:
The 'Do-Saving Ten - Nutrients Scientifically Proven To Help Regrow Hair:
(Natural products work differently for different people. Some will get more results than others. If you're not happy with what it does for you, see our guarantee below...)
Biotin found in studies to contribute to limiting hair loss and stimulate hair re-growth as well as aid in the care of normal hair1


Silica Studies find women taking silica had thicker hair because of increased elasticity and tensile strength2


L-Methionine and L-Cysteine the sulfur amino acids that form "keratin," which is the protein structure of hair. These amino acids have been found to increase hair growth by as much as 100 percent. They not only prevent hair loss, but also improve the texture and quality of growing hair.3


Vitamin A is an antioxidant, important to hair follicles, by producing sebum in the scalp, which keeps the hair roots lubricated.4


Vitamin B Complex (6 Vitamins) is especially important for hair growth and health. Hair loss has been shown to occur when your diet is deficient in B vitamins. 5 B6 especially has been clinically shown to stimulate hair growth.6
---
3. A Guarantee That Shows Real Confidence in The Product
The truth is natural products work differently for everyone. We believe if ANY Hair Regrowth product is going to work for you, it will be the one we recommend. We've put a lot of research into making sure of it.
But if it doesn't, what happens then? If you bought from us, you have nothing to worry about. You have an entire year to return your empty bottles for a full refund - no hoops to jump through, no questions asked.
Most of our competitors want you to call in for an RMA number (probably so they can talk you out of the return) and quite a few will only accept returns of unopened bottles. What kind of guarantee is that?? ... not a guarantee we'd want to trust in!
---
Introducing: Natural Born Hair Raiser™
Natural Born Hair Raiser™ is the first Hair Regrowth supplement created with all of the above criteria in mind.
NO harsh chemicals or drugs
NO synthetic vitamins
ALL of the "'Do-Saving Dozen" scientifically proven ingredients
So What Should You Do Now?
First, go get the Natural Born Hair Raiser™ 3-Pack. (the 3-Pack is best). Not only does it meet all the above requirements, it's the ONLY 100% naturally-derived product on the market!
Second, plan to take two capsules twice per day. That's how to get the amounts found effective in the studies1-6. This is a full 30-day supply at that dose ... 120 capsules.
Third, be prepared to raise some hair!
TRY IT FOR A MONTH
Retail Price $69.99
Our Price $49.99
1 Full Year Money Back Guarantee
No automatic shipping surprises
1 full month supply at 2 doses per day
The ONLY Hair Regrowth Product with this exclusive formula
ALL Natural, Scientifically Proven1-8 Ingredients
BEST VALUE
3-MONTH SUPPLY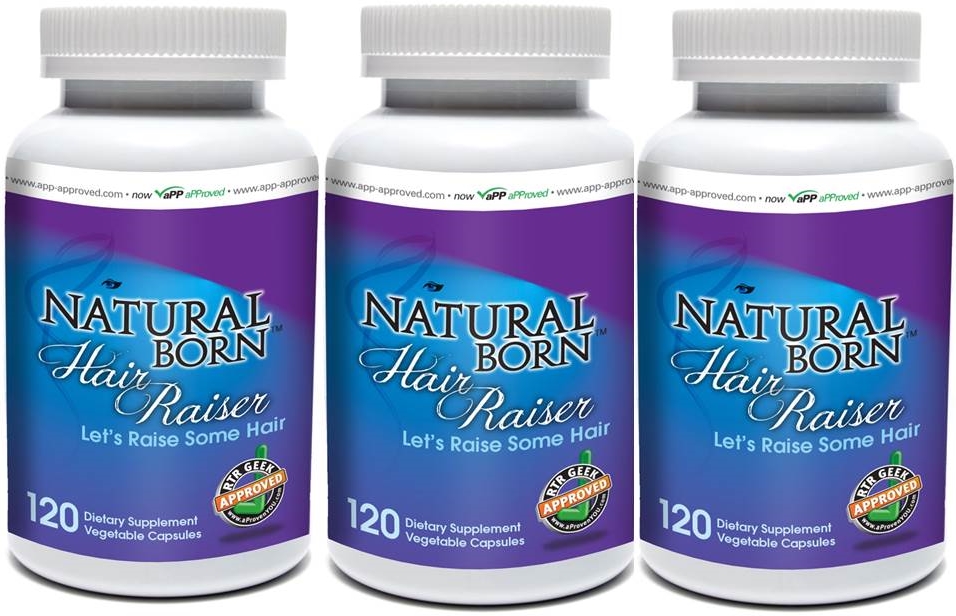 Retail Price $209.97
3-Pack Special for $149.97
Limited Time Offer: Get FREE Same-Day Shipping (order before 2pm EST and it ships today)
1 Full Year Money Back Guarantee
No automatic shipping surprises
3 full months supply at 3 doses per day
The ONLY Hair Regrowth Product with this exclusive formula
ALL Natural, Scientifically Proven Ingredients1-8
---
Is there anything we've missed in our research? Please let us know via the "Contact Us" link at the top of this page.
Til Next Time,

---
1.
EFSA Panel on Dietetic Products, Nutrition and Allergies (NDA), "Biotin Related Health Claims," EFSA Journal 2009; 7(9):1209
2.
Lassus A. Colloidal silicic acid for oral and topical treatment of aged skin, fragile hair and brittle nails in females. J Int Med Res. 1993 Jul-Aug;21(4):209-15.
3.
Budde J, Tronnier H, Rahlfs VW, Frei-Kleiner S. (1993) Systemic therapy of diffuse effluvium and hair structure damage. Hautarzt. 1993 Jun;44(6):380-4.
4.
Hertel H, Gollnick H, Matthies C, Baumann I, Orfanos CE. (1989) Low dosage retinol and L-cystine combination improve alopecia of the diffuse type following long-term oral administration. Hautarzt. 1989 Aug;40(8):490-5. German. PMID: 2676911.
5
GOUNELLE H, MITROVIC M, DEMARNE M. (1961) On the vitamin B complex content of the hair of normal and pellagrous subjects. Am J Clin Nutr. 1961 Nov-Dec;9:746-51.
6/sup>Brzezińska-Wcisło L. (2001 Evaluation of vitamin B6 and calcium pantothenate effectiveness on hair growth from clinical and trichographic aspects for treatment of diffuse alopecia in women. Wiad Lek. 2001;54(1-2):11-8.